The European tech platform for circular waste management
With our independent platform we offer the solution to reduce waste, re-use and recycle sustainably. We connect all the players in the waste chain; the organisations with waste, logistics companies, and processors/producers who turn waste into valuable resources and new products. Together we stimulate the circular economy. Will you join us?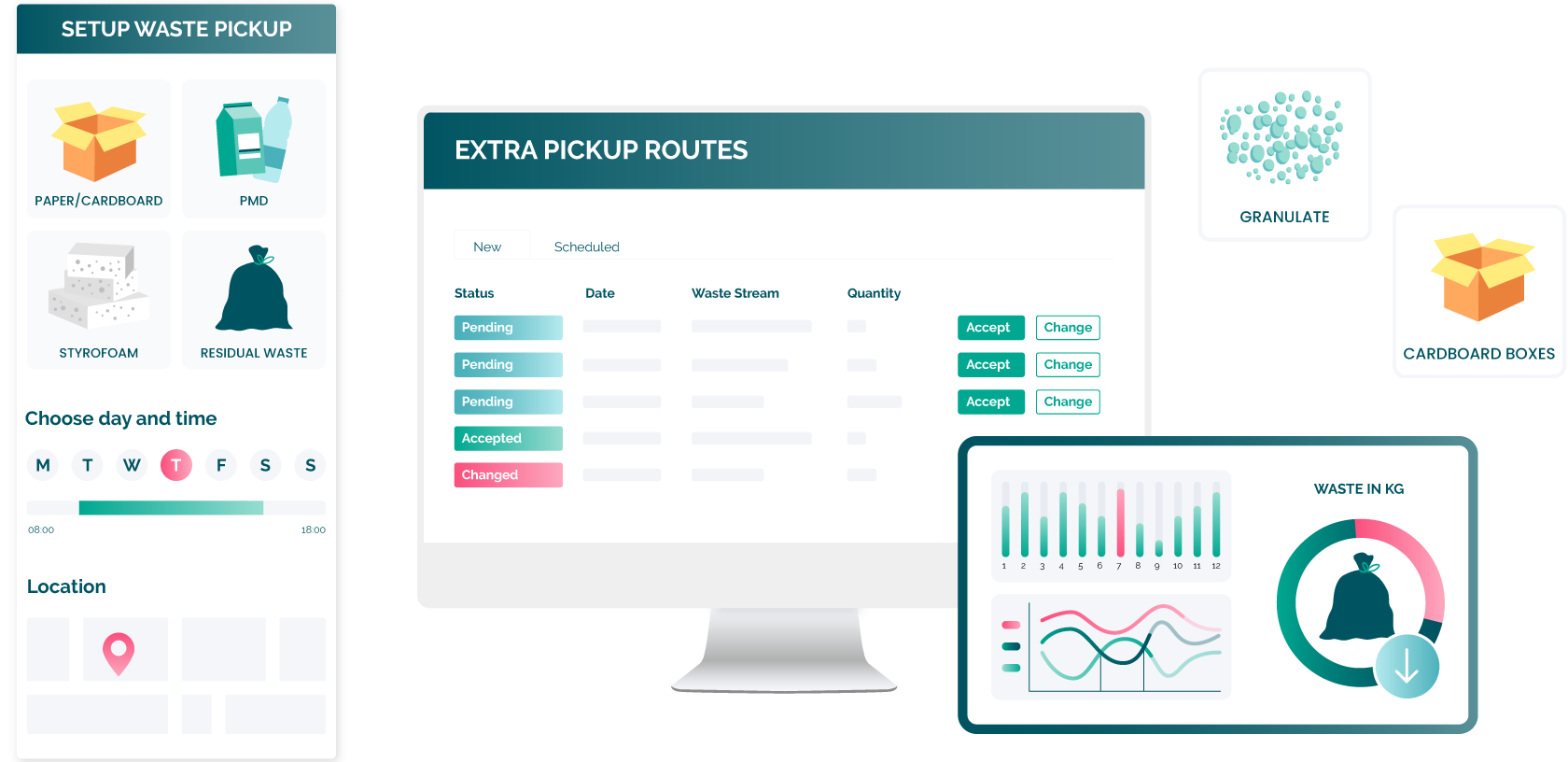 This is how we help you to zero waste
Improve your environmental footprint
Reduce (waste)costs and work efficiently
Everything on one easy-to-use platform
Organisations with waste
Logistics Partners
Processors
Organisations with waste
Reduce your environmental footprint and save on waste costs
Via our platform you will find the best logistical companies and processors to turn your waste into valuable new raw materials. We give you insights into what happens to your waste and advise you on how to reduce your CO2 and reduce costs. We will also help you to reduce, re-use and recycle, without disrupting existing processes or requiring large investments.
Logistics Partners
Processors
We can only make impact together
The total solution for your company waste
With our platform and apps we have created a total solution to connect everyone in the waste chain. Whether you are separating waste, transporting or processing waste. Because we can only give waste a second life if we work together. Are you interested in finding out which functionalities we can offer you?
Importing waste, incineration, oceans full of plastic – in light of climate change this has to stop. In the Netherlands alone 2.75 megaton, or 76 million wheelie bins, of company waste is incinerated or ends up in landfills. We want to change this. Our mission is to save waste – and to reuse it as valuable new resources. Our tech platform brings everyone in the chain together for sustainable waste management. We believe in working together towards a world without waste and a circular economy by 2050.  
Redesigning our waste transport and processing is an important part of our sustainability goals. Seenons offers the tech expertise to connect all locations and waste streams to the right logistics party. On top of that, they give us insights into our environmental impact. And eventually their technical expertise can also help to find the right processors for our waste.
Together with Seenons, we arrange the collection and processing of various waste streams from companies and organisations. Seenons' software works easy and helps us create the most efficient, and therefore sustainable, route for our drivers.
The partnership with Seenons enables us to expand our supply of spent coffee grounds locally – so that we can produce 100% circular and local coffee ingredients.
Deloitte Technology Fast 50
KVK Innovation Top 100 2022
Circular Innovation City Challenge